At the turn of the millennium, WAP was the next big thing. The predictions were that everyone would be using
At the turn of the millennium, WAP was the next big thing. The predictions were that everyone would be using WAP to view websites on their mobiles – never mind that the screens were one inch square, pixels could be seen from a distance and each webpage took minutes to load. Unsurprisingly, WAP failed.
Skip forward to 2008, the iPhone and its smartphone cousins began their march towards domination. Mobile phone internet use has since increased exponentially – iPads, iPhones, Androids, tablets and all manner of mobile and electronic devices now represent 28% of all internet browsing.
Why is having a responsive website so important?
Smartphones are already outselling PCs
Mobile web usage accounted for half the Mother's Day related sales last year
38% of UK tablet owners spend more time on their device than watching TV
Search queries from tablets increased by 23% after Christmas Day
If the current trend continues next year mobile internet users will overtake desktop users.
That will leave an awful lot of websites out of date – hovering on drop down navigation doesn't work well on touchscreens for instance; neither Google Android or Apple devices support Flash; and low to mid-end phones can leave text unreadable.
As the technology has moved on, so the internet has to. And responsive websites are where it's moving to.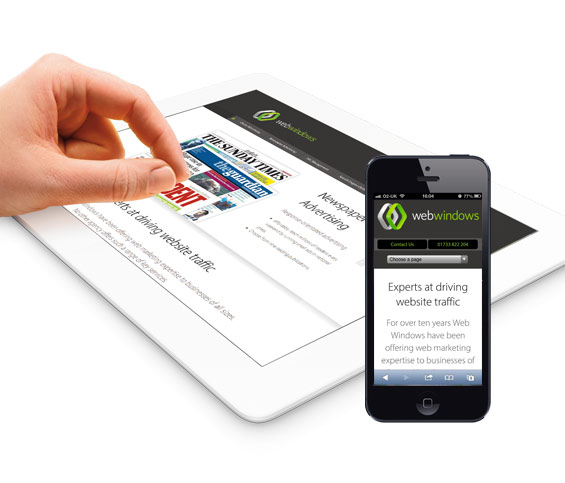 Responsive Design isn't another design fad. It will allow your website to display well on tablets, phones and phablets (yes, it is a real word), and is dictated by necessity.
Using methods which detect pixel density, screen sizes and ratios, Responsive Design will reformat your site to ensure all your content is delivered to visitors in a format that can be viewed easily, downloaded quickly and digested immediately. Images are resized on the fly and the all-important contact forms are reformatted so they are easily interacted with even by the clumsiest of thumbs. The appropriate interface is presented to the user, designed and formatted according to the device they are viewing it on.
While many businesses are having expensive apps produced, sites redirected or multiple streams of content controlled through a content management system the reality is that one site with a whole load of cleverly written styling rules could do the job.
And, because your new responsive website will scale to fit any screen, it'll work on the inevitable new screen resolutions of future devices, future proofing your website.
If you haven't already checked how your website displays and operates on a mobile, try it now.
It's worth remembering it's a far smarter move to redesign your main site and make it responsive than to create a second mobile-friendly version.
To talk to someone to find out how we can help you – contact us on 01733 367236